Alim Course Duration/ Islamic Studies Degree Duration
The Alim/Alimah Course Online is a comprehensive 6-year program that offers an Alim/Alimah Course Online Degree, equivalent to a Masters in Islamic Studies or MA Degree in Islamic Studies. This course is designed to provide students with a deep understanding of Islamic knowledge and principles.
The program requires dedicated and continuous research and study for a period of approximately 6 years. By the end of the program, students acquire the necessary skills and expertise to become respected scholars and leaders within their communities. To become an Alim it takes about more than 6 years with continue research and study.
Islamic Diploma Courses Duration
Diploma courses are short courses about 4-8 weeks depending upon the length of the textbook of the respective course. It's time bound course and will expire when the time period is over.
How many years Masters Degree in Islamic Studies
Islamic degree and certificate programs are structured in a generic format, allowing students the flexibility to begin and complete their studies at any time. Each semester typically spans approximately 20 weeks, following a weekly schedule. However, it is important to note that Islamic certification courses and degree programs do not impose time restrictions on students.
The programs offer a high degree of flexibility, allowing students to study at their own pace without any specific due dates or restrictions on studying, taking exams, or submitting assignments and research projects. This approach ensures that students can pursue their studies without feeling burdened or pressured by rigid timelines. After any courses completed on ALIM University Participant will receive Diploma/ Degree/ Certificate up to Mufti/IFTAA Certification and PhD/Doctorate Degree in Islamic Studies.
ACADEMIC CALENDAR FORMAT

START ANYTIME, SELF-PACED, FLEXIBLE STUDY YOUR WAY

9 weeks study

9 weeks study

1 week midterm exam

1 week final exam
Alim/Alimah Course Online
Bachelor/Masters Degree in Islamic Studies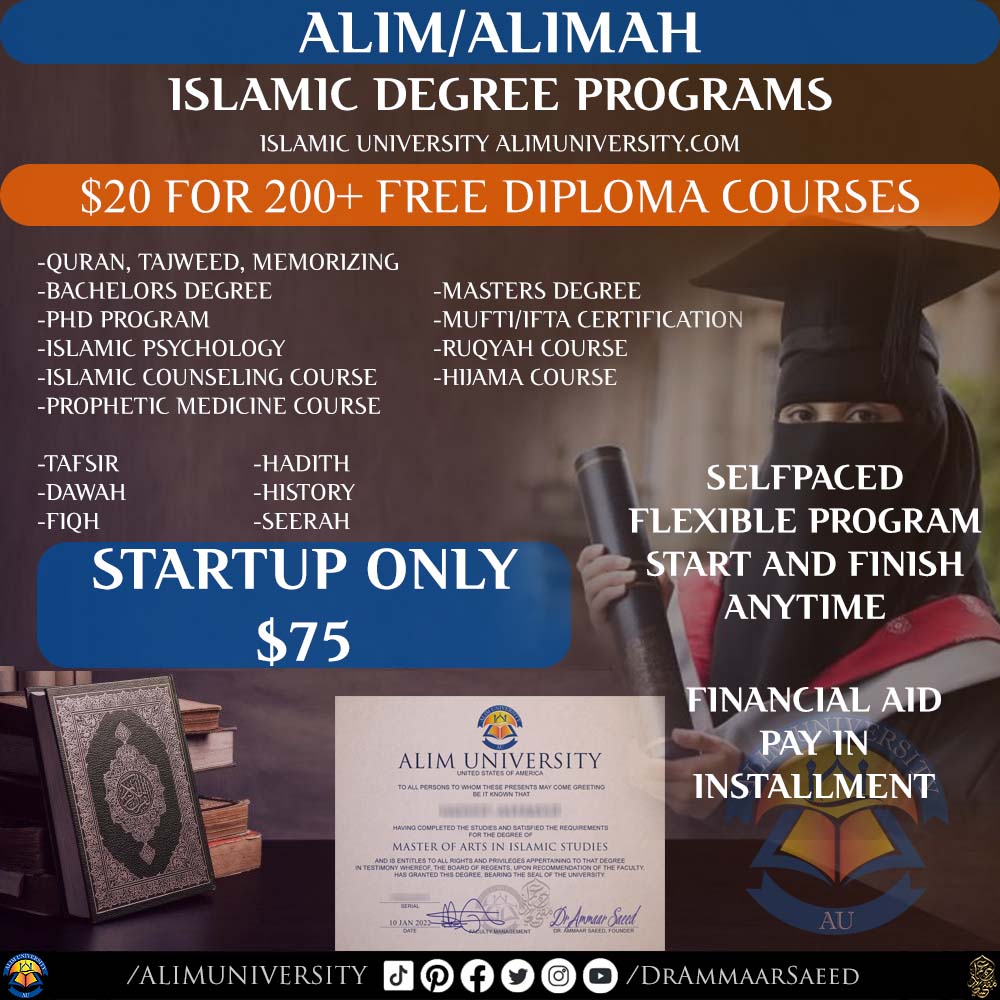 ISLAMIC HOLIDAYS WAIVED
Updated
April 20, 2023